The Mistrzostwa Polonii w Kolarstwie Górskim is the Chicagoland area's premier mountain bike event.
With racing for all ages 18+ and abilities in 3 age categories, this event will draws riders from all over the region.
The event is held as a fundraiser for Tatry Ski Club to promote winter and summer activities organized by the club. The race is held within Alpine Valley Resort, on an extensive 8 mile single track trail  built and maintained by Alpine Valley Resort, just an  hour outside of Chicago. The trail is flowy, fun and built with all levels of rider in mind. The event strives to keep a fun family atmosphere while providing a both challenging and fun race experience for first timers to the seasoned elite athlete.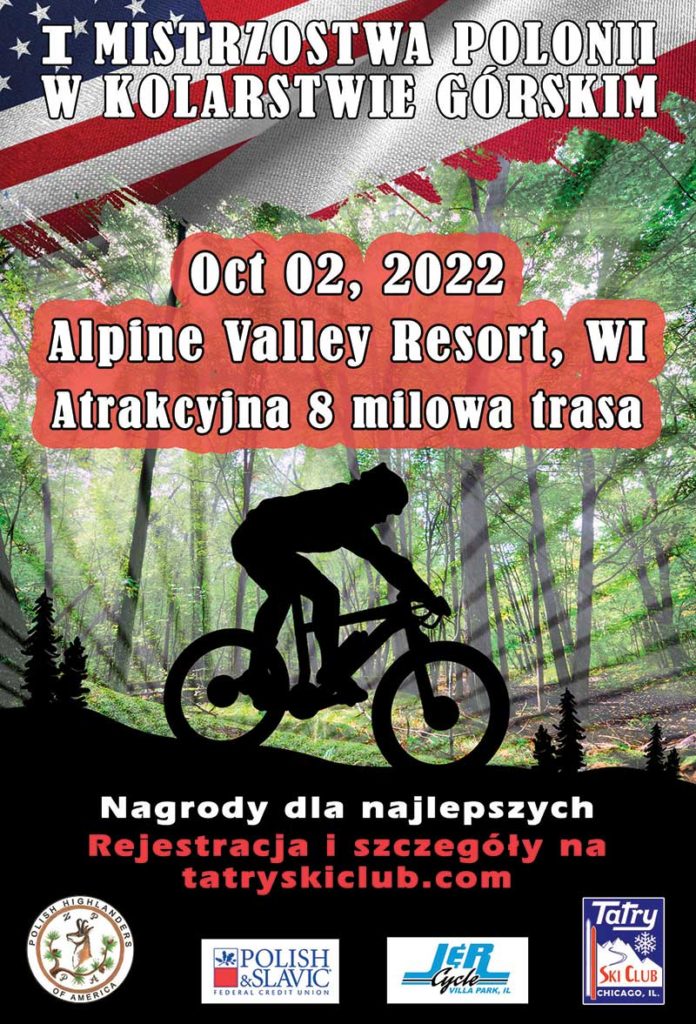 2022 Race Schedule
Mid August – 09/25/2022 – on-line registration open at tatryskiclub.com
10/02/2022 – Day of the race
7:30am – 9:00am – on site registration on the patio by the outside grill facing the ski hill
10:00am – Mass start on the bottom of the hill
12:00 – End of the race time limit.
Aprox. 12:30pm-1:00pm – official results and awards ceremony on the patio by the outside grill.
12:00pm – 2:00pm event awards and social party on the patio. Food and refreshments available at Alpine Valley Bar.
2:00pm. Alpine Valley Mountain Bike Trail re-open for the public
Regulations
All riders have to sign Alpine Valley Resort and Tatry Ski Club waivers. No exceptions.
All riders must be 18 years old at the time of the event. Sorry no kids event due to resort regulations
Helmets and mountain bike is mandatory. No e-bikes, hybrid, gravel or road bicycles allowed.
No bikes / cleats in and between buildings of the Alpine Valley resort. Enter to the parking lot dedicated to bicyclist (make left turn before main parking lot and proceed to gravel parking lot by the maintenance sheds). Dress and ride / walk bike to registration and start point.
All riders are expecting to compete with high ethical skills. Ride to the right, let pass faster riders, yell pass on your left before you pass, move away from trail path in case of technical, do not block trail any time. Be courteous and nice to other riders.
No SAG support on trail. You are responsible for your flats, broken chains etc.
Carry your phone on you in case of emergency. Due to trail characteristics number of judges / spotters is limited.
Obey trail markings, race fair play, respect Alpine Valley Property,